Important Things to Know
Please be sure to arrive early and get in line as tours are on a first-come, first-serve basis and leave promptly at their scheduled time. If you or someone in your party has special needs, please let your ticket agent know so we may be able to best assist you. The start/finish line and pit road experiences are dependent on track activity and will not occur if there are events scheduled. Please visit the track calendar to ensure you have the best experience. This tour is conducted on an open-air tram and will continue to run in the rain. There is a chance you could get wet. Please check our weather radar for the most up to date weather info. Tours will NOT continue if there is lightning within five miles of the track. Rain checks may be issued, but no refunds will be offered.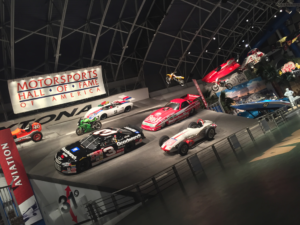 The Motorsports Hall of Fame of America has moved from its previous longtime home in Novi, Michigan and is now housed in the DIS Ticket and Tours Building, showcasing spectacular displays honoring all forms of motorsports: Stock Cars, Sports Cars, Open-Wheel, Motorcycles, Drag Racing, Land Speed Records, Powerboating and Aviation.
Classic machines from those competitive arenas highlight the hall, along with bronze sculptures of all 230 Motorsports Hall of Fame of America inductees, including a special shrine to the most recent seven individuals
You can now explore the new Motorsports Hall of Fame of America as part of a tour at Daytona International Speedway!
DAYTONA INTERNATIONAL SPEEDWAY
1801 W. International Speedway Blvd.
Daytona Beach • 386-681-5588
Tour dates are listed online at:
daytonainternationalspeedway.com/tours
Venture behind-the-scenes and discover what makes DAYTONA the "World Center of Racing" and the leader in motorsports entertainment. DIS offers three separate tours throughout the year that take race fans inside the hallowed grounds of NASCAR's marquee race track. An experience to remember for any race fan! Admission to the Motorsports Hall of Fame of America and its spectacular displays is included as part of your tour!
SPEEDWAY TOURS
Tours run daily and leave every 30 minutes beginning at 9:30 a.m. with the last tour of the day running at 3:00 p.m. Tours last about 60 minutes. Experience the 31-degree high banks for yourself as the tram coasts along turns 3 and 4 before finding yourself walking in the footsteps of legends past and present as you climb atop the podium in Gatorade Victory Lane for a photo. End this sixty-minute Speedway Tour by standing next to the car of this year's DAYTONA 500 champion, left in the same condition as the day it captured the checkered flag. Following your tour, fans can now access the new Motorsports Hall of Fame of America.
VIP TOURS
VIP Tours run every Wednesday at 1:00 p.m. This roughly 2.5 hour tour features an exclusive stop to the NASCAR Archives & Research Center and Press Box in addition to visiting the Axalta Injector and the infield of Daytona International Speedway before ending at the Motorsports Hall of Fame of America. This ultimate VIP Tour will immerse you in history, heroes and high speeds.
VIP Tour Tickets are $47 per person and can be purchased online or by calling 1-800-PIT-SHOP (1-800-748-7467).
*NEW* – All tours now include a digital photo package included with your tour ticket!